Integrating Broadbean with WordPress for Bis Henderson Recruitment
Bis Henderson
We worked with Kate at Bis Henderson Recruitment in order to integrate Broadbean job posting and distribution into their existing WordPress website and to allow candidates to apply for jobs within WordPress.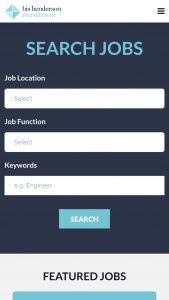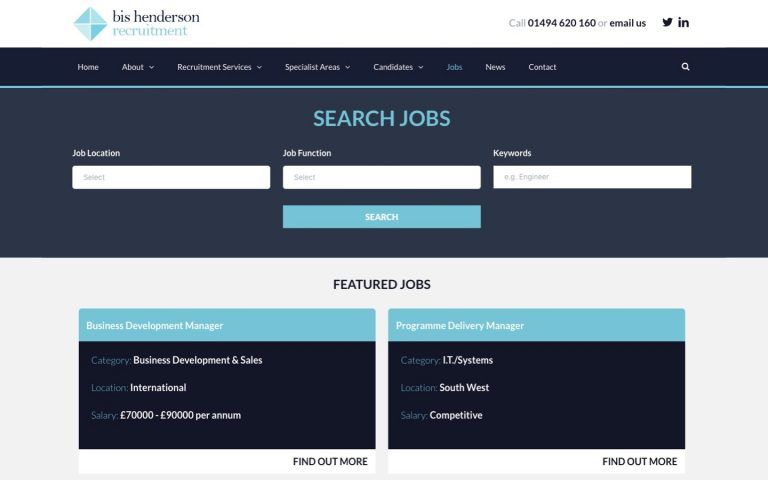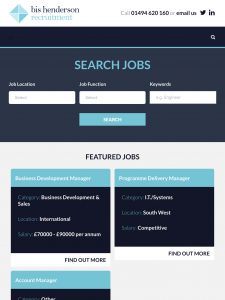 Industry: Recruitment
Services: Development, Plugin Development
Technology: Broadbean Integration, Job Board, WordPress
About Bis Henderson Recruitment
Bis Henderson are recruitment experts in supply chain, logistics and procurement. They work with a variety of clients both across the UK and internationally, using their experience to help source candidates and drive companies forward.
Challenges
Bis Henderson already had a successful WordPress website which they were very happy with, was performing well and did not want, or need to change in the near future. The challenges prior to working with Highrise Digital to integrate Broadbean were:
Bringing in another agency to work with the existing agency who built the website
The issue of having to write jobs in multiple places
Tracking of candidates was difficult via the website
Fast delivery of the project was needed
Broadbean themselves recommended Highrise Digital [for the WordPress integration]

Kate Lupton – Group Head of Marketing
Project goals
There were a few project goals important for this project.
Integrate Broadbean with WordPress so that Bis Henderson could select their WordPress website as a job destination when writing jobs in Broadbean
Allow candidates to apply for a job on their WordPress site and have that application appear in Broadbean along with applications from other sources
A fast turn around time – the integration was needed quickly
The ability for candidates to search for jobs easily
Creating a brief and defining the scope
Before the project started, we worked closely with the current web development team who built the website as well as Kate in order to define a scope for the work. This ensured there would be no surprises when the project was delivered.
In addition to this, it gave us the chance to ask questions about the integration and raise things that can sometimes get overlooked.
Once a brief and scope was agreed on, we could start to proceed with the integration itself.
---
What we delivered
The integration we produced for Bis Henderson was essentially broken down into 4 stages.
Integrate the current WordPress website with our WP Broadbean plugin which we use to implement the majority of our Broadbean integrations. This meant installing and configuring the plugin and integrating it with their current WordPress site.
Adding the required search functionality came next. Here we added the ability for candidates to search for jobs via job location, job function and via general keywords. This better-enabled candidates to find what they were looking for, quicker.
Configured the application form with the required fields.
Integrating the required template files. We added WordPress theme template files to make sure that the job listing pages, a single job page and the candidate application form displayed correctly and matched the look, feel and style of the current site.
Delivered a feed build specification to the integrations team at Broadbean. Here we instructed the Broadbean team where to post the job data and the format that it should be sent across in.
Testing – we tested the feed to make sure that everything works – jobs are being delivered to WordPress, jobs can be edited and deleted from Broadbean and that candidate applications are being tracked back into Broadbean.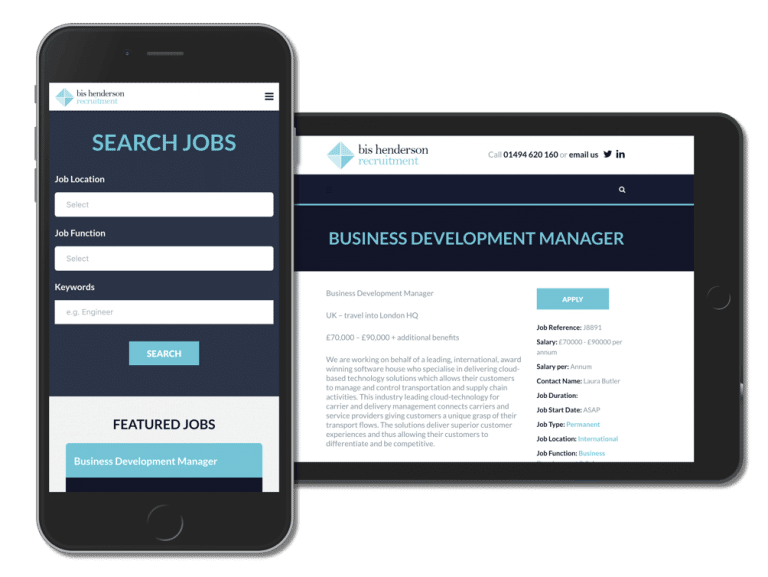 Integrating theme templates for job listings
Part of the implementation was to integrate new templates into the theme in order to display the jobs with the same look and feel as the current website. This made sure that the job listing, single job and the application form pages were branded the same as other pages on the website for a seamless integration.
I think their technical ability seems to shine and when we've had problems and two suppliers won't know but they will work it out really quickly. They know WordPress like the back of their hand. They are FANTASTIC at [WordPress] development and I know that the quality is there.

Kate Lupton – Group Head of Marketing
---
In summary
We enjoyed working with Kate as well as Bis Henderson's current web development partners in order to deliver a Broadbean integration which works well with their current WordPress setup.
Bis Henderson now has Broadbean fully integrated with their WordPress site which delivers on the project goals we set at the start. We have also since worked with them to improve and enhance the original integration, to make their lives easier and allow them to place candidates quicker and more effectively.
Do you need to integrate Broadbean with a WordPress site?
If you like the approach we took with integrating Broadbean for Bis Henderson and you have similar requirements then we would love to hear from you.
Get in touch today to integrate Broadbean with WordPress
Or visit JobRelay our Broadbean > WP integration service